A new class of satellite terminal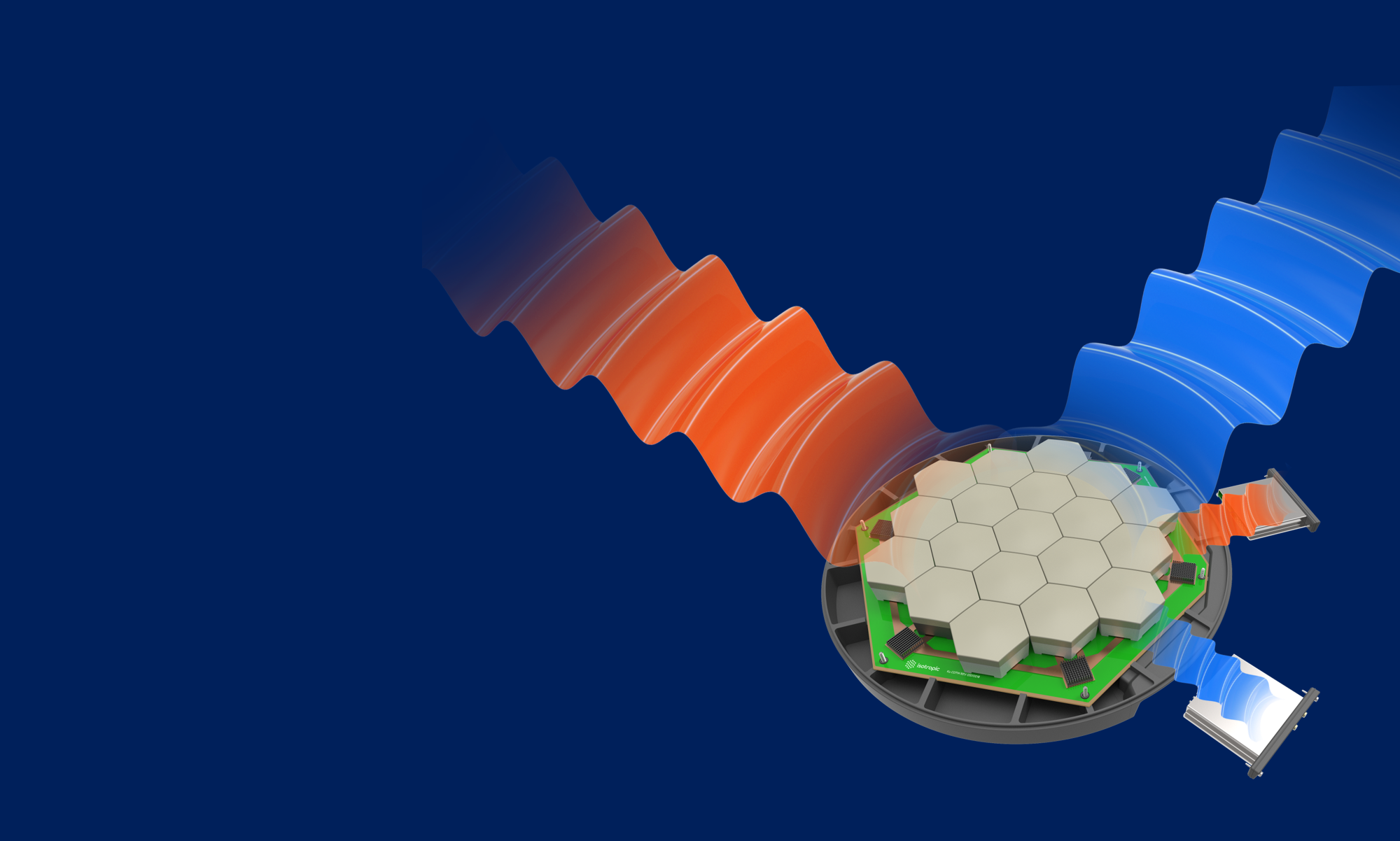 Ku- and Ka-band at 70-95% lower cost than phased array and flat panel technology
Our optical beamformer modules reduce the required circuitry of conventional phased array and flat panels by 70-95%. Reducing the number of circuit elements drives down the cost of our terminals exponentially, allowing you to unlock existing and unmet demand for enterprise and consumer broadband and therefore access a much wider market, increase profitability, and secure significantly higher revenue.
All of our products support a minimum of two independent satellite links
We offer multi-beam support without increasing either cost or design complexity, a capability that provides solutions which will benefit service providers, operators, and users to unlock capabilities including make-before-break handover from a single terminal, and further provides link aggregation, path diversity, SLA enforcement, on-demand capacity, and least-cost routing, to name a few. These unrivaled features allow almost limitless operational flexibility and opportunity to design a greater range of solutions.
Fully integrated plug-and- play terminal option with certified modem partners
We include two standardized modem bays to permit our customers to choose integrated modem modules from any one of our certified modem partners, and maintain the option to use external modems.
The integration of modem and waveform technologies into our multi-beam terminal is an entirely unique capability. In concert with multi-beam and our distributed HPA, service providers will be able to ship pre-configured, fully-integrated terminals for a true out-of-the-box customer experience.
Instantaneous bandwidth that unleashes HTS
Our solution implements true time delay to link our optical beamformers into a terminal. This enables you to deploy our terminals to connect to the widest satellite carriers in the industry. By removing the bottleneck of traditional phased array and flat panel technology, we enable you to unlock the true value of HTS with significantly more bandwidth to serve more customers while your end-users enjoy a much higher quality of experience.
Modular optical elements define aperture size for precise requirements
The scanning range of our terminal is driven by the number of feeds within each module. We optimize the number of feeds and corresponding components to match to your scanning requirements for your specific applications. For example, NGSO systems often require significantly less scanning capability than traditional GEO, enabling impressive reduction in required components, allowing you to optimize your capex investment by avoiding existing over-engineered solutions.
The number, arrangement, and orientation of modules set the gain of the terminal. Your needs drive the size of the terminal without the need to overbuy.
We have a common transmit/receive aperture that has been designed with the capability to customize the relative transmit and receive performance independently to match capabilities to your requirements. This fundamentally changes your opportunity to precisely balance a terminal to satisfy the bandwidth ratio requirements of your intended applications
Our scalability of frequency, size, shape and circuitry enables us to build our terminals around your business case.
Exponential power reduction compared to phased array
Our terminals consume power that falls well within the range of renewable energy, off-grid power solutions, and mobility applications where power is an expensive operating cost of the service delivered. This results in a unique capability for you to increase the reach of your network into more remote regions and more demanding environments, and lower the operating costs of the services delivered to your end user.
Using optics to break the mold of antenna technology
Over the last three years, we have developed a high-powered computational modeling capability to enable creation of a new kind of microwave refractive beamformer that allows exceptionally tight control over the propagation of radio waves beyond that possible previously. These capabilities leverage new developments in computational modeling, material science, and microwave electronics resulting in a capability that allows us to produce a specification that satisfies the design constraints for any specific application for satellite communications.